I just finished my review of the SNL premiere hosted by
Seth MacFarlane
,
so check that out too
! Next week I'll review two new Fox shows
Ben And Kate
and
The Mindy Project
.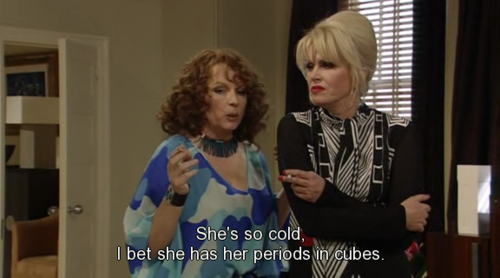 From the top left:
Golden Girls
,
Spongebob Squarepants
,
South Park
,
Absolutely Fabulous
(I sometimes forget to mention this,
Pleated Jeans
is my resource for these screencaps if I don't mention otherwise)
TELEVISION
Fall season
is upon us! Though most of my old favourites haven't returned yet, I'm already hooked on shows like
Ben and Kate
,
The Mindy Project
,
The New Normal
and the second season of
X Factor
(
Demi Lovato
and
Britney Spears
really kick ass as the new judges).
X Factor
is facing some tough competition from The Voice but they both will probably finish before the new season of American Idol starts in January. American Idol has also finally
confirmed
their judge panel.
Mariah Carey
was announced few weeks ago, but now
Nicki Minaj
and
Keith Urban
are also officially judges.
Randy Jackson
returns as judge despite rumours that he would become just a mentor. The new panel seems like a really interesting on, can't wait!
I'll have to wait till January for another one of my favourite shows,
Smash
. But I don't mind, since it just keeps getting better all the time. Now two new actors have joined the cast:
Jesse L. Martin
(
Rent
) and
Nikki Blonsky
(
Hairspray
). So both of them have a firm base on musical theater and I believe they will fit the world of
Smash
perfectly.
I have talked alot about
Arrested Development
too, and how they have been recruiting all their old actors. But they have
added
some new characters too. There is no word yet on who they will play, but
Isla Fisher
(
Bachelorette
(my favourite comedy movie at the time) and
Terry Crews
(
Everybody Hates Chris
) have joined the cast. As previously mentioned
John Slattery
will also be playing a new character.
Quick casting news:
New Girl
's Jess is getting some pretty
impressive parents
as they are played by
Jamie Lee Curtis
and
Rob Reiner
. They will appear in a Thanksgiving episode as Jess (
Zooey Deschanel
) will try to reunite her divorced parents.
Big Bang Theory
cast
a new character too, named Alex who is Sheldon's new assistant but gets a crush on Leonard. She will be played by
Margo Harshman
who was one of the stars of the short lived (unfortunately) NBC comedy
Bent
.
If you love Episodes as much as I do, then you'll be super happy that it has been renewed for a third season! Though there is no mention on the dates of the new season, but I assume it will take a while. I just hope its worth a wait, and maybe this season we'll see at least one of the old Friends join Matt LeBlanc, that would be a dream come true.
Then some
Cougar Town
news: The cul-de-sac crew decided to celebrate their new premier date on TBS with a cool video. This is exactly why I love the show, they aren't afraid of getting embarrassed and they really love their fans. Though the creator
Bill Lawrence
has now dropped out as the show-runner (he still writes and produces) and is planning
a new comedy
, the show will probably be greater than ever! (I tried to embed the video here, but didn't work because of the legal rights,
so watch it here!
)

AWARD SHOWS
This deserved a section of its own. There were two big happenings on the world of awards this week. I'll start with Oscars.
Don Mischer
is
returning
to direct after directing the last two shows. This is a pretty good decision, to combine two new producers with a veteran director. Now we just have to wait to find out who will host the show.
The Academy also
announced
all their dates. The biggest change was moving the nomination announcement to Jan 10th, way earlier than usually. This way the voters have more time and it gives a chance to more viewers see Oscar-nominated films too. The change also means that the nomination announcement comes few days before
Golden Globe
awards are held, drawing the spotlight from them a bit. But I really don't care, I love both shows so I'm happy they even exist.
The second award show that has been on the news alot is
Emmy
s. Though the main event is this Sunday 23rd, the
Creative Arts Emmys
were last weekend. Though
most of the awards
were technical (like for directing, camera work, casting and stuff) , there were few acting categories too. All four guest star Emmys were given.
Martha Plimpton
(
Raising Hope
) won Guest Actress in Drama for
Good Wife
and
Jeremy Davies
won Guest Actor in Drama for
Justified
. Awards for Guest stars in Comedy were give to
Jimmy Fallon
(for hosting
SNL
) and
Kathy Bates
(for
Two and a Half Men
). You can read more about the highlights of the show in
here
. And for some red carpet action, got
here
!
FILM AND TRAILERS
This week there weren't so many interesting news about movies, but these two made the cut.
August: Osage County
has
added
Ewan McGregor
to play the husband of
Julia Roberts
' character. This movie is going to be so good! McGregor, Roberts and
Meryl Streep
acting,
George Clooney
producing, based on a Pulizer-winning story, and it's a drama.
The second news is maybe the biggest in few weeks. After the announcement of the newest James Bond
film,
Skyfall
, there has been a lot of buzz about who will sing the theme song. And now it seems like its final, Adele will be
singing
the theme, currently titled just Skyfall. I tried to track this bit of news as far as I could, since it seems too good to be perfect. I found no official announcement, but I really wish it is true. And so far the production company hasn't denied the rumours. But how cool would it be to hear Adele's voice booming before the feature film.
Now on to the trailers. First one is for Disney's newest animated movie, Wreck It Ralph. I was sold the minute the trailer started with Funkytown playing on the background. Seems like another success for Disney!
The second is for Steven Spielberg's Lincoln, an epic drama about Abraham Lincoln played by Daniel Day- Lewis. Looks very powerful and beautiful (and an Oscar-bait too)
That's all folks! New posts coming next week!