Now that I still remember, since I saw the ad on the way home: remember to watch the BRIT Awards this evening if you can, or look for videos on YouTube tomorrow. Performers include Rihanna, Coldplay and Adele. Here is a pic of the stage while under construction form the official
BRIT Awards site
TV first this time. Last week I was introduced to another new comedy,
Happy Endings
. It's a story about six friends living in Chicago,very similar to Friends and How I Met Your Mother. It has a great and diverse cast, which includes Elisha Cuthbert (
24)
, Casey Wilson (
Saturday Night Live
) and Zachary Knighton (
FlashForward
), definitely worth checking out.
It was
announced
that Lindsey Lohan will return to host Saturday Night Live for the 4th time at March. Even though she still has some community service to do, she really is trying to make her way back to the top, with a LOT of rumours of what will be her new project after she is "free" again in May. I think she will do an awesome job as a host, and I really feel for her, I don't think she is a lost cause yet. Though it will be hard to top Maya Rudolph hosted episode, which IMO was the best of the season so far.
During last night's episode of
How I Met Your Mother
, the viewers could spot a familiar face. It was no other than Conan O'Brien. In one of the scenes during the second half of the episode the red-headed late night host could be seen on the background of a bar scene. More info at
vulture.com
Last week was also kinda historical, The Simpsons aired their
500th
episode. With 23 seasons under its belt, the super successful show holds the records for the longest running sitcom, animated series and scripted primetime show. The episode itself was actually pretty great, since they didn't fall for the classic memory-lane trap, but instead it was a full episode of new adventures, where the family was kicked out of Springfield. The couch gag was frame-by-frame montage of all the previous couch gags, which was pretty great actually. The photo below was shown just before end credits: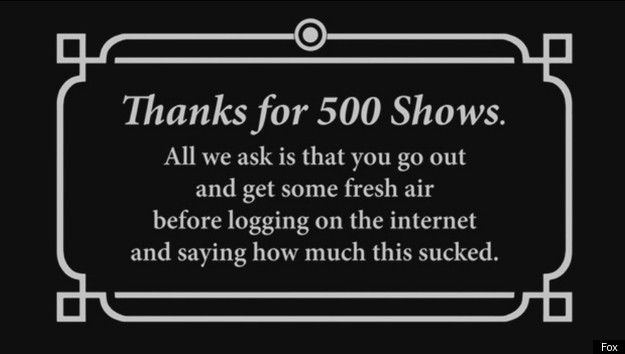 Then some movie deals again. Kyle Chandler (
Friday Night Lights
) was
confirmed
as the new cast member of the untitled Osama Bin Laden movie. The movie is directed by Kathryn Bigelow (first woman to win Oscar for Best Director for
Hurtlocker
few years ago). Other cast members include woman of the hour Jessica Chastain (
Tree of Life, The Help
) and Chris Pratt (
Parks and Recreation
).
Another huge success of 2011, Michael Fassbender (
Shame, X-Men: First Class
), had some casting
news
too. He will be a part of new movie
Irish Myths
, playing a hero: Cuchulain. Maybe then I have to learn something about my current home country. Next Fassbender will be starring in the upcoming movie
Prometheus
, a prequel to the Michael Scott's classic
Alien
.
Among upcoming
sequels
was one, that I really want to turn out well:
Percy Jackson & The Olympians: Sea Of Monsters.
The fist part failed spectacularly to capture the feeling of the book, that I really liked as a kid. I hope new director Thor Freudenthal will do honor for the books. Now that Harry Potter and Twilight have come to an end (I know there is one more Twilight movie coming, but I kinda hope there wasn't), there is a void for fantasy movies. Hunger Games are doing their share on filling it, but this five-part series would do nicely for the rest. Basically the series combines Ancient Greece mythology and modern day, with big plot lines.
And for those of us, who were wondering what Rufus Wainwright has been doing while his hiatus of recording studios. Well he has been writing a french opera of course. Titled
Prima Donna
, currently running in New York, it's about an aging opera star named Régine Saint Laurent, who's hiding out in Paris in the 1970s, anxiously preparing for her comeback after losing her voice six years previously. That might be fun to see.
~~~
Since the Oscars are this Sunday, I'll post tomorrow or the day after that a big post about it, with my picks for winners, what to expect at the show, and some bits about the nominated films.